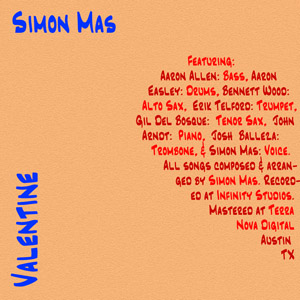 Info
Release Date: September 2010; Genre: Jazz – Hard Bop; Length: 46′.58″; Label: Coopta; Catalog Number: CMR1001; Format: CD, digital
Recorded: 18-19 August 2010 at Infinity Studios, Austin TX; Mastered: 21 August 2010 at Terra Nova Digital, Austin TX; Producer: Simon Mas
Tracks
01  What Is It?      [Mas]
02  Outside      [Mas]
03  Jamaica Junction (Two Women Fighting)      [Mas]
04  Scene 71 (Tempest Kiss)     [Mas]
05  There You Have It      [Mas]
06  Valentine      [Mas]
Personnel
Aaron Allen: bass
John Arndt: piano
Josh Balleza: trombone
Gil Del Bosque: tenor sax
Aaron Easley: drums
Simon Mas: voice
Erik Telford: trumpet
Jerry Tubb: mastering engineer
Barret Walton: recording engineer
Bennett Wood: alto sax
More
Interview with Giovanni Durst.
Reviews
No review of the album is available at the time.
Quotes From Professionals and Fans
Simon, thanks so much for submitting your release Valentine for airplay. […] great musicianship and sound recording. I'll be sure to get your release in our new releases rack asap this week, Simon […]. Be sure to keep in touch.
– Ron Burd, former Music Director at CIUT-FM radio, via email.
Your singing style [on the album] reminds me of old Jobim records when he used to sing his own songs.
– Jerry Tubb, professional audio engineer, commenting on the music during the mastering session.